How Many Episodes in Bungo Stray Dogs Season 5
The highly anticipated release of Bungo Stray Dogs season 5 is just around the corner, and fans are eagerly awaiting the next installment of the series. The new season is scheduled to premiere on July 12, 2023, and an important detail has been revealed regarding its length. Bungo Stray Dogs season 5 will consist of a total of 11 episodes, which is one episode shorter compared to the previous four seasons.
The announcement of the Bungo Stray Dogs season 5 episode count has generated excitement among fans, who have taken to platforms like Twitter and Reddit to express their enthusiasm for continuing the story. With the series' return imminent, it's a perfect time to revisit the talented main cast and the dedicated staff responsible for bringing Bungo Stray Dogs season 5 to life.
Bungo Stray Dogs season 5 cast and staff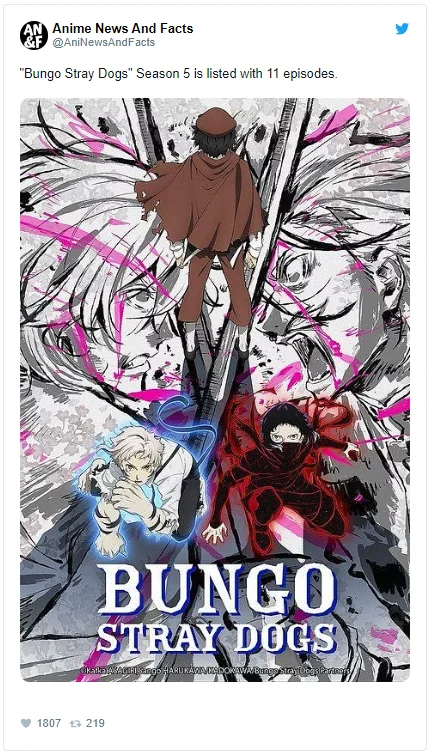 The cast of Bungo Stray Dogs has voice actors who have held roles in anime like Demon Slayer, Attack on Titan, One Piece, and Assassination Classroom.
Atsushi Nakajima – Yuto Uemura (young Grisha Yeager in Attack on Titan)
Osamu Dazai – Mamoru Miyano (Atsumu Miya in Haikyuu!! and Doma in Demon Slayer)
Ochi Fukuchi – Akio Otsuka (Ekubo in Mob Psycho 100 and All For One in My Hero Academia)
Fyodor Dostoyevsky – Akira Ishida (Hyoga in Dr. Stone and Eichi Tsukasa in Food Wars! Shokugeki no Soma)
Ranpo Edogawa – Hiroshi Kamiya (Trafalgar Law in One Piece and Levi in Attack on Titan)
Ango Sakaguchi – Jun Fukuyama (Finral Roulacase in Black Clover and Koro-sensei from Assassination Classroom)
Lucy Gaud Montgomery – Kana Hanazawa (Akane Tsunemori in Psycho-Pass and Mitsuri Kanroji in Demon Slayer)
Ryunosuke Akutagawa – Kensho Ono (Giorno Giovanna in JoJo's Bizare Adventure: Golden Wind)
Chuuya Nakahara – Kisho Taniyama (Jean Kirschtein in Attack on Titan)
Staff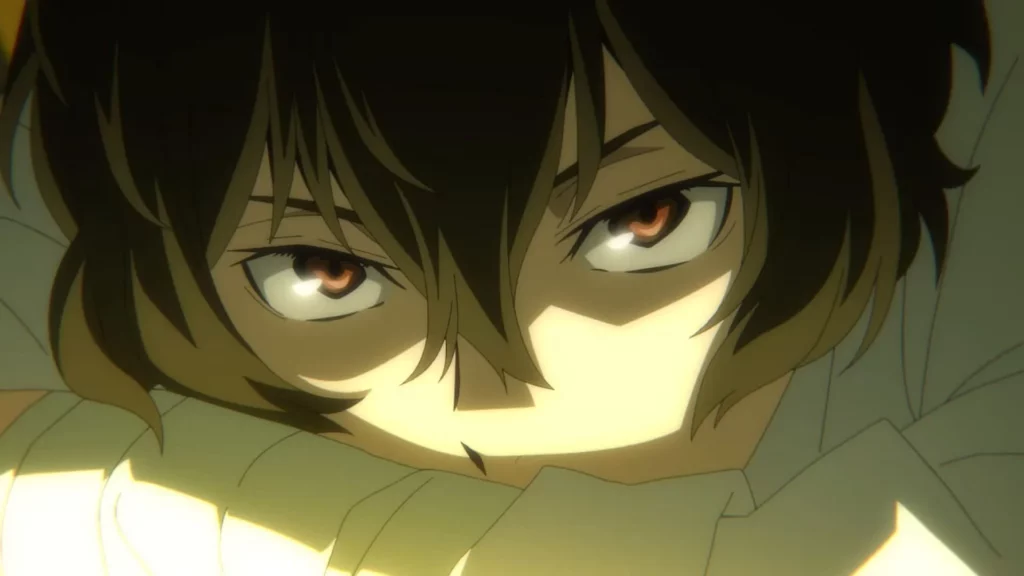 Director – Takuya Igarashi (Captain Earth and Soul Eater)
Series Composition – Yoji Enokido (The Melody of Oblivion and Ouran High School Host Club)
Script – Yoji Enokido (Neon Genesis Evangelion and Sailor Moon S)
Music – Taku Iwasaki (Gurren Lagann, The Irregular at Magic High School, and JoJo's Bizarre Adventure)
Original creator – Kafka Asagiri and Sango Harukawa
Character Design – Nobuhiro Arai (Sakura Kakumei – Hana Saku Otome-tachi ONA and Chaika – The Coffin Princess)
Art Director – Yumiko Kondou (Glassfleet, Gosick, Space Dandy, and My Hero Academia THE MOVIE: World Heroes' Mission)
Chief Animation Director – Nobuhiro Arai (Heaven's Lost Property the Movie: The Angeloid of Clockwork)
3D Director – Yuuki Oguri and Yōta Andō (Dragon Pilot: Hisone and Masotan and Josee, The Tiger and the Fish movie)
Sound Director – Kazuhiro Wakabayashi (Blue Exorcist and The Case Study of Vanitas)
Director of Photography – Tsuyoshi Kanbayashi (Captain Earth and Darker than Black – Kuro no Keiyakusha: Gaiden)
Color design – Yukari Goto (Sk8 the Infinity and Soul Eater)
Editing – Shigeru Nishiyama (Anohana: The Flower We Saw That Day and Dragon Ball Z: Broly – The Legendary Super Saiyan movie)
Prop Design – Fumihiro Katagai (Josee, The Tiger and the Fish movie)
Theme Song Performance – GRANRODEO [Opening] (Kuroko's Basketball and Baki Hanma ONA) and Luck Life [Ending] (Food Wars! The Third Plate)
Bungo Stray Dogs Plot
In recent weeks, an enigmatic tiger had been haunting the orphanage where Atsushi Nakajima, the protagonist of Bungo Stray Dogs, resided. Curiously, everyone except Atsushi was aware of its presence. As suspicion grew around him regarding the peculiar occurrences, Atsushi found himself expelled from the orphanage.
Now homeless and without provisions, Atsushi roamed the city streets in search of sustenance. It was during this desperate time that he encountered a peculiar individual named Osamu Dazai. Dazai, known for his fascination with suicide and his involvement in supernatural investigations, had been looking into the very tiger that had affected Atsushi. The discoveries made by Dazai and his partner presented Atsushi with a difficult choice. With no other options available, Atsushi reluctantly joined forces with Dazai and his agency, which specialized in dealing with supernatural phenomena.
As 2023 progresses, stay tuned for more updates and news about Bungo Stray Dogs season 5, both in the anime and manga realms.
Suggested Read: Bungou Stray Dogs Season 5 New Trailer & Release Date