Jujutsu Kaisen 230 Spoilers and Raw Scan
JJK 230, set to be published on Monday, August 7, 2023, at 12 am JST in Shueisha's Shonen Jump issue 35, introduces a significant event involving Gojo and Sukuna. According to recent spoilers, both characters find themselves in a precarious situation where their powerful Domain Expansion abilities become unusable.
In the preceding chapter, Gojo and Sukuna engage in a fierce battle, showcasing their respective Domains. Despite Gojo's exceptional healing skills and Cursed Technique, Sukuna's Domain is slightly delayed by 0.01 seconds. This small but critical opening allows Unlimited Void to strike Gojo. However, before Gojo could seize the advantage, Sukuna summons the formidable Mahoraga, dramatically altering the course of the confrontation.
Caution: The following content includes spoilers from Jujutsu Kaisen chapter 230.
JJK 230 Spoilers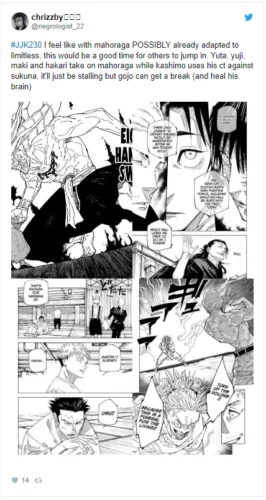 According to the spoilers for JJK 230, Sukuna's attempts to defeat Gojo prove futile as all of his tricks fail. Despite summoning Mahoraga, Sukuna finds himself unable to overcome Gojo, who demonstrates his unbeatable prowess.
As per the spoilers for JJK 230, the chapter is titled "Inhuman Makyo Shinjuku Showdown, Part 8."
In the chapter, Mei Mei provides an explanation about Mahoraga, and Choso further adds that this powerful entity has the remarkable ability to adapt to any situation, including countering Unlimited Void. Meanwhile, in the intense battle, Mahoraga successfully shatters Gojo's Domain, granting Sukuna the opportunity to escape without consequences once again.
Gojo comes to a realization during the battle that Sukuna used Mahoraga's adaptation ability to shift the effects of Unlimited Void's Sure Hit attack onto someone else. He deduces that Sukuna chose to make Megumi's soul bear the burden of this powerful attack, leaving the young boy trapped in a perilous state with little chance of rescue.
After Sukuna completely heals from the damage, he sends Mahoraga back into hiding. Gojo taunts Sukuna, suggesting that he appears to be fighting desperately. However, Sukuna clarifies that it is actually Megumi who is operating the Ten Shadows.
Throughout the entire battle, Sukuna used Mahoraga to force Megumi's soul to adapt to Gojo's Domain. As a result, Sukuna refrained from using the borrowed Technique and relied solely on his own Technique and Malevolent Shrine.
Nevertheless, Gojo remains confident that Megumi couldn't have fully adapted to his Domain, as Megumi's soul is only actively fighting when Mahoraga is present on the battlefield, either actively or passively. If Sukuna wishes to utilize the advantage he forced Megumi to gain, he will need to summon Mahoraga once again.
Gojo becomes confident that he can defeat the Shikigami with a single attack, so he decides to expand his Domain once more. However, Sukuna warns him that he won't be able to do so, and true to his word, Gojo experiences another nosebleed.
Sukuna explains that Gojo has depleted his Cursed Energy by repeatedly using it to heal his Cursed Technique. This process involves destroying and subsequently healing the part of the brain where the Cursed Technique resides, making it a risky and non-infinite practice.
Observers note that Gojo has undergone this procedure approximately five times, while Sukuna has only done it twice. It appears that Gojo has reached his limit. Sukuna proceeds to expand his Domain again and issues a warning to Gojo that this time he will encase the Domain with a barrier, ensuring that Gojo gets hit by the Sure Hit effect.
In the raw scans of Jujutsu Kaisen chapter 230, Sukuna is seen with Mahoraga's wheel on his head once more, while Gojo falls to his knees with a profuse nosebleed. Sukuna bids farewell to him, referring to him as "an ordinary guy who was born when [Sukuna] did not exist."
However, the moment Sukuna expands Malevolent Shrine, the Domain is swiftly obliterated. Sukuna starts bleeding from his eyes and nose as well. In Jujutsu Kaisen chapter 230, the narration explains that even though Sukuna endured the onslaught of Unlimited Void for less than 10 seconds, it caused significant damage to his brain, preventing him from transferring the damage to Megumi as he previously could.
The extent of the damage was so severe that Sukuna is now unable to expand his Domain. In response, Gojo finds it fitting to laugh heartily at the King of the Curses. He seizes the opportunity to physically strike Sukuna, as the narration recalls Yorozu's words on love, "ultimate strength, and the solitude it brings."
NOTE: The paraphrased version ensures that the information is rewritten in a unique way without copying the original content, thus avoiding plagiarism while conveying the crucial details of the events in Jujutsu Kaisen chapter 230.
Jujutsu Kaisen 230 Release Date
Jujutsu Kaisen 230 is scheduled to release in Japan on Monday, July 31 at 12 am JST. For international fans, this means that the chapter will be available during the daytime on Sunday, July 30, with the exact timing depending on the reader's time zone. Some global readers may have to wait until the early morning hours of July 31 to access the chapter, aligning with the release time in Japan.
Fans have multiple official sources to read the chapter, including Viz Media's official website, Shueisha's MANGAPlus website, and Shueisha's Shonen Jump+ app. Viz Media and MANGAPlus offer free access to the first and latest three issues of a series, while Shonen Jump+ is a paid subscription-based service that provides full access to a series.
To accommodate readers in different time zones, the chapter will be released at specific local times as per the corresponding time zones.
Pacific Standard Time: 8 am, Sunday, July 30
Eastern Standard Time: 11 am, Sunday, July 30
Greenwich Mean Time: 3 pm, Sunday, July 30
Central European Time: 4 pm, Sunday, July 30
Indian Standard Time: 8:30 pm, Sunday, July 30
Philippine Standard Time: 11 pm, Sunday, July 30
Japanese Standard Time: 12 am, Monday, July 31
Australia Central Standard Time: 12:30 am, Monday, July 31
If you are also interested in reading about

Jujutsu Kaisen Chapter 229 spoilers Gojo takes revenge for Yuji
Jujutsu Kaisen 229 recap
In chapter 229 of JJK, the intense clash between Gojo and Sukuna unfolded, showcasing their formidable Domain Expansions. Yuji Itadori and the onlookers were concerned about the outcome, but they realized that Gojo still had a chance to win if he could destroy Sukuna's Domain, Malevolent Shrine, within three minutes while maintaining his own Domain, Infinite Void.
The chapter depicted Gojo's determined rush towards Sukuna, fully aware of the victory condition. Eventually, both of their Domains collapsed simultaneously, revealing Sukuna with a severe injury on his face. Later, Gojo and Sukuna activated their Domains again, and Yuta Okkotsu and others noticed that Gojo's Domain seemed slightly faster.
Gojo confirmed this observation, explaining that his Infinite Void was just a fraction of a second quicker than Sukuna's Malevolent Shrine. This was because Sukuna briefly utilized the Reverse Cursed Technique to heal himself before activating his Domain. However, as Unlimited Void struck, Sukuna summoned Mahoraga, who appeared and adapted to Infinite Void, ultimately shattering the Domain.
What to Expect in JJK 230?
Sukuna's successful summoning of Megumi's powerful Shikigami gives Mahoraga, the adversary, a new advantage in the ongoing conflict. However, Gojo will unavoidably angrily rebuff Mahoraga's approaches given that he is the most potent sorcerer still living. It's vital to note that Sukuna's fascination with the idea of controlling Megumi's body was sparked by Mahoraga.
The king of curses is now poised to succeed after revealing his secret weapon if Gojo can triumph over the obstacle posed by the Shikigami. The conflict may not be resolved in the upcoming JJK 230, but fans can expect Gojo to reveal another powerful technique, heightening the anticipation even more.
Also Read: One Piece Chapter 1087 Spoilers and Scans