My Hero Academia Chapter 396 Spoilers And Raw Scans
After the recent chapters, where Ochaco Uraraka and Himiko Toga's fight and shared storyline concluded, fans of My Hero Academia eagerly anticipate the direction the series will take in chapter 396. As the final arc's war approaches its climax, there are only a few major battles and events left to focus on. However, Kohei Horikoshi, the author and illustrator, might choose to explore other plotlines or introduce new fights that hold equal importance.
In My Hero Academia chapter 396, there's a possibility of encountering fresh storylines or battles, adding further excitement for readers. Horikoshi holds the key to the upcoming chapter's content, and only he knows what surprises await in the next installment of the manga.
Although specific spoilers for My Hero Academia chapter 396 have not been confirmed, fans can anticipate some significant revelations and developments. While it is uncertain if all these aspects will be fully explored in this chapter, they remain potential directions for the series based on the information available thus far.
My Hero Academia Chapter 396 Bakugo Update Before Shifting To All Might vs. All For One
In My Hero Academia chapter 396, there are three potential storylines to be covered: All Might versus All For One, Deku versus Shigaraki, and Bakugo's status. However, it's unlikely that Deku versus Shigaraki will receive significant attention until the conclusion of All Might versus All For One's battle. While there might be brief check-ins with Deku and Shigaraki, they won't be the chapter's main focus.
As a result, the major spoilers fans can expect are either the beginning of All Might and All For One's final fight or an update on Katsuki Bakugo's condition. The main reason for this focus lies in Deku versus Shigaraki being considered the arc's primary event.
If My Hero Academia chapter 396 delves into Bakugo's condition, fans can anticipate his revival and catching up on events while he was unconscious. This includes Deku's arrival and departure with Shigaraki, the resolution of Dabi's situation, and the defeat of Toga and her Twice clones.
My Hero Academia Chapter 396 All Might vs. All For One
Furthermore, fans might witness Bakugo learning of All Might's intentions to fight All For One, possibly motivating him to support his mentor and role model in the ultimate showdown against his arch-nemesis. Regardless of the number of remaining pages, this development will serve as a transition to the focus on All Might and All For One's fight.
Following this shift, the chapter's final moments will depend on the available pages. If there is enough space, extensive dialogue between the two fighters might take place, recounting their past battles and discussing All Might's injuries and current Quirkless state. All Might may also introduce his mech-suit, as seen in his previous manga appearance.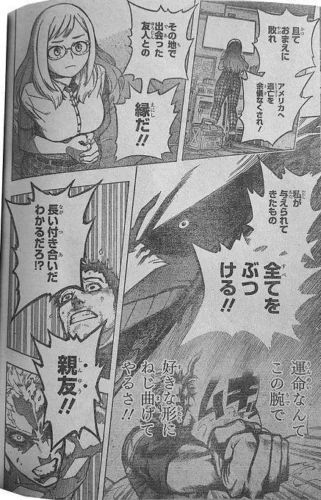 The direction of the chapter will also be influenced by its allocation of focus, whether it primarily centers on Bakugo or the battle between All Might and All For One. In either scenario, fans may witness an intense clash between the two characters, paving the way for an earnest fight in the subsequent chapter.
Final Thoughts
My Hero Academia Chapter 396″ continues to push the boundaries of heroism, delivering gripping developments that will leave fans speechless. As the battle against the formidable villains intensifies, the fate of heroes and society hangs in the balance. The chapter's spoilers and raw scans offer tantalizing glimpses of the high-stakes confrontations, emotional moments, and unexpected revelations that await readers. With the story reaching a critical juncture, "Chapter 396" promises to be a game-changing installment that will have a lasting impact on the series.
Suggested Read: My Hero Academia chapter 395 Spoilers, Raw Scans, And More