Vinland Saga Season 3 Confirm after the Season 2 finale
The final episode of Vinland Saga season 2 concluded on Monday, June 19, 2023, leaving viewers in awe of what is being hailed as one of the most remarkable anime seasons to date. Thorfinn's transformative journey, encompassing both the first and second seasons, culminates in an emotionally charged finale that leaves audiences reflecting on the future.
With the conclusion of season 2, fans of Vinland Saga are now eagerly awaiting news about the anime's next installment. Speculation regarding the inevitable arrival of a third season has been circulating among fans long before the conclusion of the second season.
Adding to the anticipation is a subtle hint suggesting that a third season of Vinland Saga is indeed in the works. While no official announcement has been made, a prominent member of the show's production staff seemingly confirmed the anime's continuation through their personal Twitter account.
Vinland Saga chief animation director confirms season 3 after the season 2 finale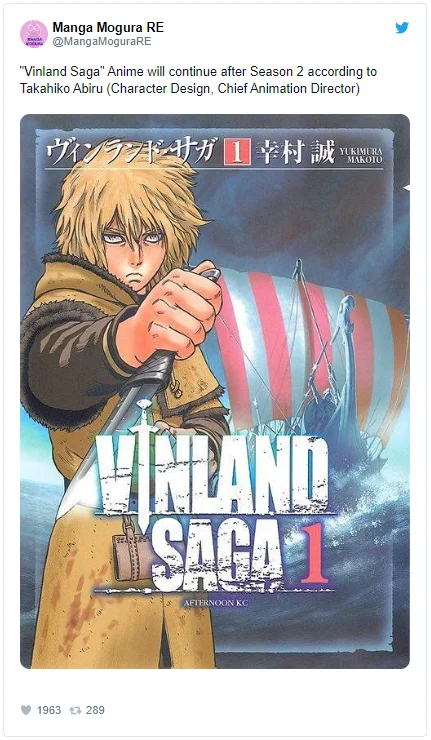 As previously mentioned, there has been no official confirmation regarding the production of Vinland Saga season 3. However, a tweet from Takahiko Abiru, the series' character designer and chief animation director, has sparked speculation about a potential third season. The tweet, posted shortly after the season 2 finale aired, expresses gratitude towards the staff and fans of the anime. In the closing line of the tweet, Abiru cryptically suggests that "Thorfinn's journey will continue" alongside an image of Thorfinn donning an unfamiliar outfit not seen in the second season.
While it remains uncertain whether Abiru's tweet is hinting at a third television season or another form of continuation, it implies that the series will continue in some capacity in the future. Although the possibility of a movie adaptation exists, it seems unlikely given the current amount of unadapted manga material available.
It is important to note that Abiru's tweet does not serve as an official announcement, and fans are eagerly awaiting an official confirmation. The hope is that Abiru's promise will be verified in the near future, especially as Thorfinn and Einar embark on their journey to Vinland. Stay tuned for updates on all things related to anime, manga, films, and live-action as 2023 progresses.
Conclusion
With the conclusion of Vinland Saga Season 2, fans are eagerly awaiting the confirmation of Season 3. The gripping narrative, compelling characters, and breathtaking animation have captivated audiences, leaving them hungry for more. While an official announcement is yet to be made, the strong reception and demand for the series make it highly likely that Vinland Saga will continue its epic saga in Season 3.
Suggested Read: Vinland Saga Season 2 Episode 23 Explained