Buck Rainbow Six Siege: Rainbow Six Siege is an exciting video game with a broad cast of operators, each with their own set of abilities and playstyles. These operatives come from various counter-terrorism teams around the world and offer a diverse set of skills. Each operator adds something unique to the team, whether it's breaking walls, creating traps, providing medical care, or gathering intelligence.
By selecting operators who match one other's talents and weaknesses, players can strategize and form their own dynamic squad. Rainbow Six Siege delivers dynamic and tactical action for all types of players, with a choice of operators to pick from.
Buck in Rainbow Six Siege (R6/R6S)
Sébastien "Buck" Côté is an attacking character in Rainbow Six Siege. He is a member of the attacking side and was added to the game as part of the Operation Black Ice update. Buck is noted for his distinct abilities and playstyle, which distinguish him from other operators.
He carries a unique weapon known as the Skeleton Key, which combines a shotgun with an under-barrel grenade launcher. By blasting through barriers, he is able to breach through walls and build new passageways. Buck is a great asset to any offensive team in Rainbow Six Siege, thanks to his varied equipment and tactical skills.
Background History of Buck in Rainbow Six Siege
Sébastien "Buck" Côté is originally from Montreal and comes from a military family. He has always desired an adventurous and unusual existence. To pursue his aspirations, he joined the Canadian Armed Forces Reserves and studied criminology at Université du Québec. He joined the Canadian Army full-time after graduation and served in the Military Police.
Côté afterwards joined the Royal Canadian Mounted Police (RCMP) and was assigned to the Emergency Response Team (ERT). He was a valued asset due to his specialised training in high-risk scenarios, sea rescue, and armed ship boarding. He was subsequently invited to join JTF2, a Canadian military force, where he polished his tactical driving, hazardous materials handling, and hostage rescue skills.
Personality Analysis of Buck in Rainbow Six Siege
Côté is a straightforward individual who values efficiency and seeks the shortest path to his objectives. Unlike several of his Rainbow counterparts, he prefers simple mechanical gadgets over complicated or flashy technologies. When confronted with difficult circumstances, he maintains his cool and responds immediately with smart thinking.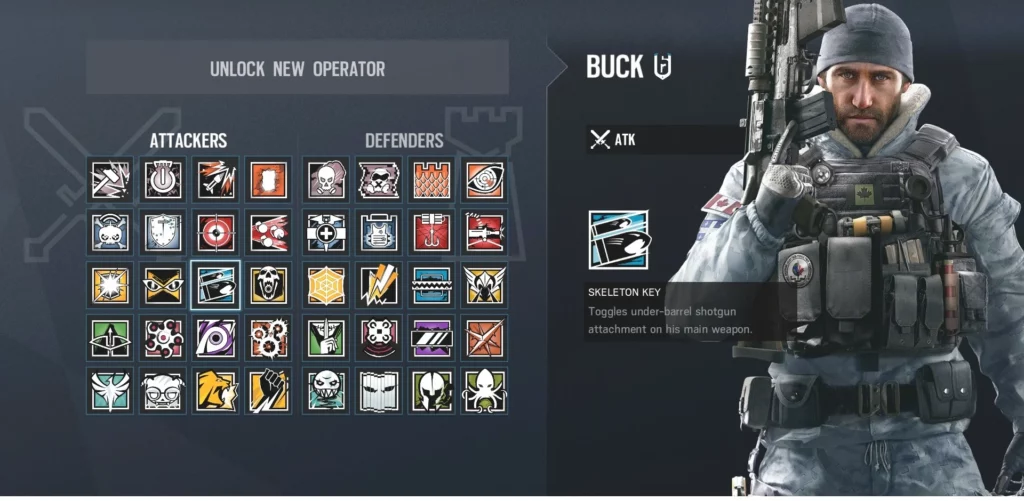 Côté's leadership style is warm and adaptable, allowing him to readily adapt to changing conditions. He is fluent in French, English, and Pashto, and he is currently studying Kanien'kéha (Mohawk) for personal reasons. His eagerness to learn new languages demonstrates his openness and interest about different cultures. Côté's desire to embrace and understand multiple languages allows him to interact with individuals from all walks of life, establishing a spirit of inclusion and respect.
Gameplay Abilities of Buck in Rainbow Six Siege
Buck is a medium health operator in Rainbow Six Siege who carries the "Skeleton Key," an underbarrel shotgun. It has extraordinary destructive power and can effectively break through non-reinforced surfaces. The Skeleton Key is semi-automatic and has a low recoil. It stores 5 + 1 shells with 30 in reserve. It is quite effective in breaching defences and eliminating opponents.
Buck has the ability to swap between his primary weapon and the Skeleton Key. It is also handy for close-range combat, but its effective range is restricted. Furthermore, the Skeleton Key may destroy levels above and below objectives, allowing you to tactically eliminate gadgets and foes.
The Skeleton Key is a shotgun that Buck has mounted to his assault weapon. It allows him to break through swiftly and battle foes up close. He can effortlessly switch between long-range and close-range combat by shifting his grip on the rifle. The Skeleton Key is useful for breaking down barriers and making passageways. Buck can use it to effectively address a variety of circumstances.
To Wrap it all Up
Rainbow Six Siege provides an exciting gaming experience because to its broad cast of operators, each with their own set of abilities and playstyles. Buck stands out as an assaulting operator due to his unique equipment and techniques. He excels at breaching walls and forging new passageways with the Skeleton Key, an under-barrel shotgun. Buck's past as a military and law enforcement officer gives complexity to his character, as does his pragmatic and efficient approach.
His kind and adaptable leadership style, as well as his language abilities and interest in diverse cultures, contribute to his strong interpersonal skills. Buck's Skeleton Key is a useful tool for close-quarter warfare and strategic breaching in games. Players can explore new possibilities with Buck on the team.
Suggested Read: Who is Mozzie in Rainbow Six Siege