Sea of Thieves Voice Chat Not Working: Sea of Thieves is a 2018 adventure game in which you play as a pirate. Rare and Microsoft Studios collaborated on it. It was released in March for desktops and the Xbox One. It is playable with Xbox Game Pass. In the game, you play as a pirate who performs missions for trading firms. It's an online game that you can play with other people. On a pirate ship, you explore the islands and the water, seeing everything through the pirate's eyes. You meet other groups of gamers while playing. You sometimes collaborate with them and sometimes compete with them.
Why is Sea of Thieves Voice Chat Not Working?
You're not alone if you're playing Sea of Thieves and the voice chat or mic isn't working, causing you to be unable to hear other players and them to be unable to hear you.
Since its original release in 2018, Sea of Thieves Voice Chat has been a source of contention. However, things improved over time. Somehow, the problem has resurfaced in 2023!
How to Fix Sea of Thieves Voice Chat Not Working in 2023
Some players are having trouble using the game voice chat in Sea of Thieves. Their voice does not operate when they speak. They can't always hear what others are saying. This can happen when they first start playing the game or after a time.
To resolve this issue in Sea of Thieves, first check to see if the game's audio is muted. Also, ensure that your microphone is compatible with other apps and games. These steps may assist you in resolving the voice chat issue.
Method #1 Troubleshooting Your Microphone & Headset
If your voice chat or microphone in Sea of Thieves isn't working, perform a quick test to ensure it's not a connectivity or hardware issue. To refresh the settings on your headset, unplug it and then plug it back in.
You could also try another headphone jack. Some players discovered that their headphones only functioned when they were inserted into a specific jack. Test your headset on another computer to ensure it is not physically damaged.
Method #2 Sync Game Accounts To A Single ID
Please make sure that the profile that plays and uses Sea of Thieves (or that is linked to Steam) is also logged in to your Xbox Console Companion app / Xbox (Beta) app.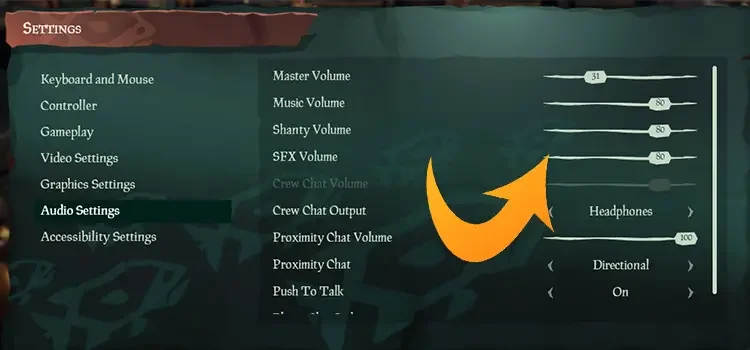 Method #3 Windows Microphone Settings
Sound settings can become messed up after a computer update. It's possible that your microphone isn't being recognised or set as the primary device. If this occurs, you can correct it by modifying the settings.
To open the Run command, press the Windows logo and R keys on your keyboard at the same time. Then, write "control" and press the OK button. Select Small icons from the View by options menu and then click Sound.
Navigate to the Playback tab, select your primary headset, and then click Set Default. Disable any other headsets that aren't in use by right-clicking on them. Go to the Recording tab and turn off any unused microphones. Select your primary microphone and then click Set Default.
You can't chat to other players in Sea of Thieves if your microphone isn't working. Follow these procedures to see if you've given permission:
In the Windows search box, type "microphone privacy" and then click Microphone privacy options. Turn on Microphone access for your device by clicking Change. Allow apps to utilise your microphone after that. Scroll down and activate the Sea of Thieves and Xbox buttons. To try the voice chat, launch the game. If it still doesn't work, double-check your audio driver.
To Wrap it all Up
Some Sea of Thieves gamers are experiencing issues with voice chat. Their voices don't operate well, making it tough to communicate with others. This issue improved once the game began, but it reappeared in 2023.
Players can try a few methods to resolve the voice chat issue. They can examine the connections of their microphone and headset. Also, ensure that their game accounts are tied to a single ID and check the microphone settings in Windows. It's also critical to grant the game access to the microphone. If the issue persists, they can also check their audio driver.
Suggested Read: Top 5 Best Valorant Coaches of All Time