You Can Still Get Aloy In Genshin Impact In 2023?
Aloy, a well-liked character from the Horizon video game series, appeared for the first time in the game Genshin Impact in 2021. Fans may wonder if they can still play as her. Here is all the information you need about Aloy's availability in Genshin Impact right now.
In 2021, Genshin Impact joined forces with another video game for the first time. HoYoverse and Guerilla Games worked together on a project. They added Aloy, the main character from Horizon Zero Dawn, to the popular gacha game so players could control her.
Genshin Impact is well-known for its many characters, and fans were really excited for the addition of Aloy, who is a very rare and powerful character. In the game Genshin Impact, Aloy is really good at using her reliable Bow and ice powers to make accurate far-reaching attacks.
Now, in the year 2023, some people may be curious about whether they can still get Aloy in Genshin Impact. To answer this question and see if you can have her in your team this year, keep reading.
Is Aloy still in Genshin Impact In 2023?
Regrettably, as of 2023, obtaining Aloy in Genshin Impact is no longer possible.
Initially, Aloy became accessible to players on PlayStation starting September 1, 2021, with the launch of the game's 2.1 update. Later, she was made available on mobile devices when the 2.2 update was introduced on October 13, 2021.
Players had the opportunity to acquire Aloy for free by simply claiming her from the in-game mailbox. However, it was necessary to have achieved an Adventure Rank Level of 20 to do so. Once introduced into the game, Aloy remained in players' mailboxes for a full year before expiring. Therefore, Travelers had ample time to level up and add her to their roster.
In the two years since her debut, Aloy has never been featured in a banner rerun, nor has she received her own set of constellations in the game. Consequently, the likelihood of her becoming available for claim again appears exceedingly low, especially considering that the ideal opportunity to reintroduce her to Teyvat would have been when Horizon Forbidden West was released in 2022.
Aloy's Release in Genshin Impact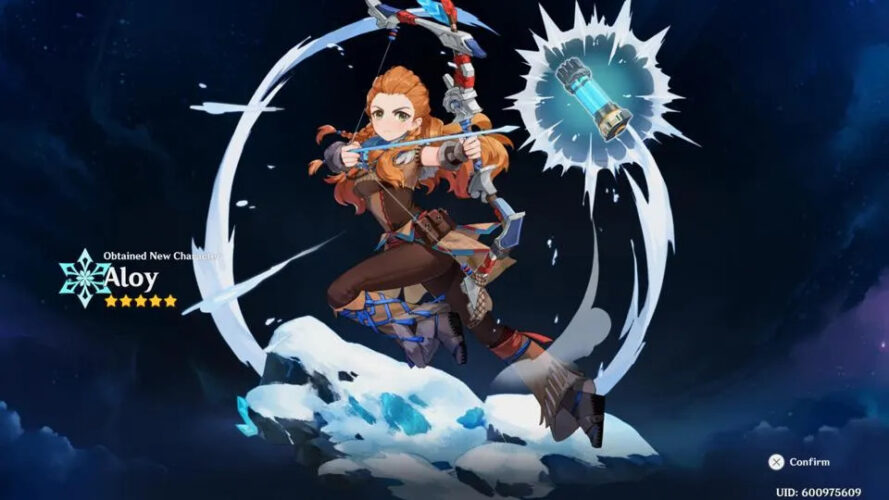 Aloy is a character in Genshin Impact that is difficult to obtain because she was only available for a short time during a special event with Horizon Zero Dawn. Even though she is not available anymore, many players who have her may not be using her strong abilities to their full potential. They often underestimate how powerful she can be.
Aloy is a very powerful character who uses a special bow and can freeze her enemies.
She can freeze her enemies with her regular attacks and also do a lot of damage to a large area with her special ability. What makes her even more appealing is that her Burst ability has a very short wait time and doesn't require a lot of energy. Her talent also does a great job of creating a lot of Cryo particles. This means she is a great choice for quickly switching to and helping other characters who use ice powers.
To get Aloy in the game, PC and mobile gamers had to claim her before the November 24, 2021 update. They could do this by going to the in-game mailbox. Once you have it, Aloy will stay in your mailbox for a year before it goes away. Players who have a PlayStation were also able to add her to their team during this time.
Conclusion
In conclusion, the opportunity to obtain Aloy in Genshin Impact is still available for players, offering a crossover experience with the popular character from the game Horizon Zero Dawn. While collaborations like these are time-limited, they provide fans with a chance to add unique and beloved characters to their roster. Aloy's arrival in the world of Teyvat has brought excitement to players, and the availability of this crossover character ensures that the adventure can continue with a new companion from a different universe.
Suggested Read: Who is Egeria Genshin Impact – Personality, Appearance & History