At the beginning of Fortnite Chapter 4, dirt bikes were included as a new addition to the island. With these autos, evading opponents and maneuvering across tough terrain is a piece of cake. They use a significant amount of fuel every round, but it is definitely worth it to use them throughout the game. Epic Games wants players to once again earn Trick Points when riding a bike after the feature was unvalued with the release of version v24.20.
In light of this, participants in the "This Season" Challenge will need to rack up 100,000 Trick Points while riding a bike in order to gain 24,000 experience points during week six of the competition. While it can seem like a time-consuming process at first, accumulating so many points can really be finished in a very short amount of time if done properly.
A step-by-step Guide On How to Get Bike Trick Points in Fortnite
Find a Dirt Bike
In order to proceed with the first stage of completing this Challenge, you will need a dirt bike as well as a petrol can. Both of these things may be discovered at Royale Ruin. Have in mind that despite the fact that this Landmark does not function as a hot-drop spot, due to its close vicinity to The Citadel, there is a possibility that skirmishes may break out in and around this region on occasion.
But, if the players are able to land quickly and take control of the region, then they shouldn't have any trouble obtaining either the Gas Can or the Dirt Bike. They are located close to the uttermost reaches of the bridge.
Try to find some high terrain or cliffs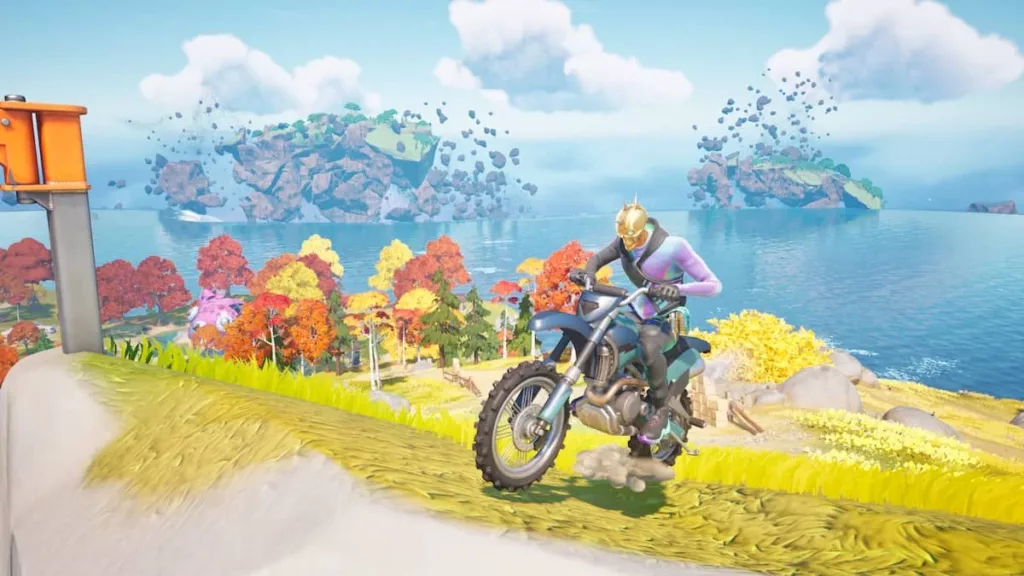 When the dirt bike has been safely stored, the petrol can be used to fill up the tank. After getting the tank up to its maximum capacity, travel in the general direction while keeping an eye out for cliff edges. As soon as you reach the highest point of the high ground or the brink of a cliff, begin searching the surrounding region for further high ground.
Speed off the cliff
As soon as you have finished surveying your surroundings, gun the engine of the dirt bike and race over the edge of the cliff. Always remember to start your leap before you do so in order to optimize your airtime. While you are in the air, you may earn Trick Points by doing tricks. Players have the potential to easily win more than 30,000 Trick Points in a single leap if they do it perfectly.
Have in mind that despite the fact that the Challenge may be finished in the course of a single match, there is no pressing need to hurry up and accomplish it. There is plenty of time to complete the Weekly Challenges in Fortnite as they will remain available until the conclusion of Chapter 4 Season 2 of the game.
Conclusion
To summarise, accumulating Bike Trick Points in Fortnite is not too difficult to do. To rack up points, all you have to do is get on a bike and pull off some impressive moves. You should prioritize doing stunts that have a greater point value in order to maximize your score. It is in your best interest to practice your stunts before trying them, since this will enable you to earn points more quickly. In order to maximize the number of points you get for your stunts, you should prioritize landing in the center of the designated area whenever possible. If you follow these pointers, racking up Bike Trick Points in Fortnite shouldn't be too difficult for you.
Suggested Read: COD: Warzone 2 Private Heavy Chopper Exfiltration Procedure