How to Open Interactions Menu GTA 5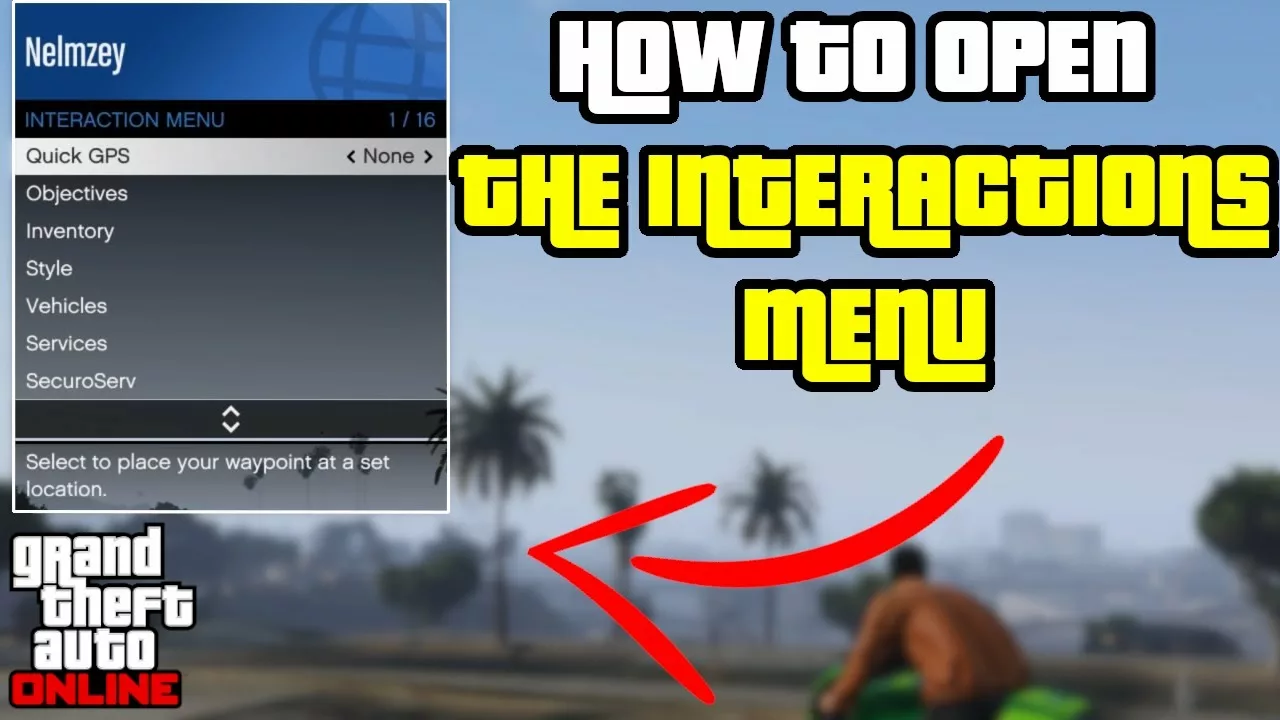 This guide explains how to use the Interaction Menu in GTA 5. It includes instructions for accessing the menu on PS4, Xbox, and PC, and covers all the options and items you can find in the menu.
What is Interaction Menu in GTA 5?
The Interaction Menu is a component of the on-screen graphical user interface introduced in Grand Theft Auto Online. Later expanded in a limited capacity to Grand Theft Auto V.
The GTA 5 Interaction Menu in GTA Online & Story Mode is a unique menu system that provides the player with a plethora of helpful choices and functions.
The Interaction Menu in GTA Online allows you to quickly create Waypoints, access the Inventory, replenish your Health, Body Armor, and Ammo, equip Accessories, use hundreds of Vehicle Options, monitor Daily Objectives and Collectibles, enable Passive Mode, and much more.
What Can The Interaction Menu in GTA 5 Do?
Players can use the Quick GPS feature to place waypoints at specific locations in the game. Including safehouses, shops, and other destinations. Some of these options are only available if the player owns certain properties or vehicles.
It lists various inventory items that players can access in the game, including cash, gear, outfits, and various types of armor. Players can also equip helmets and choose whether they want them to automatically appear when using bikes or aircraft. How players can use snacks and drinks to increase their health, as well as cigarettes and alcohol to decrease it. Fireworks and daily objectives are also mentioned.
Various options related to player actions and interactions. These include hosting impromptu races, setting player moods and walk styles, and enabling or disabling passive mode. Players can highlight specific players on the map, request personal vehicles, and set access permissions for their vehicles. Finally, players can choose their spawn location and set their player targeting priority. The passage concludes by mentioning the option to commit suicide in certain circumstances.
How To Open Interactions Menu in GTA 5
Using the Interaction Menu can enhance your gameplay experience by providing a range of options to choose from. Making it an essential tool for players of GTA 5. The menu can be used in both the game's online mode and story mode. Allowing you to customize your character's outfit, access your inventory, and interact with other players. These options can be particularly helpful when you are trying to complete missions and achieve your goals within the game.
Accessing the Interaction Menu is a straightforward process that varies depending on the platform you are playing on. PC players can open the menu by pressing the "M" key on their keyboard, while PS4 and PS5 players need to press and hold the "Touchpad" button. Xbox One and Xbox Series X|S players can access the menu by pressing and holding the "View" button. For PlayStation 3 players, the "Select" button is the key to opening the menu, while Xbox 360 players can do so by pressing and holding the "Back" button. Once you've successfully opened the menu, it will appear in the upper left corner of your screen, allowing you to quickly and easily access the options you need.
How To Use Interactions Menu in GTA Online
GTA Online offers users a number of choices in addition to the Interaction Menu, which are accessible via the Pause Menu by selecting "Online > Options." The Passive Mode, which may be selected to stop player-on-player harm, is one of the most helpful choices. Additionally, either on foot or in a vehicle, players can choose their Quickplay Action, their Joint Celebration action, and their mood during races and deathmatches.
Players may select their favorite spawn spot for GTA Online by visiting the menu, as well as decide if others can watch them play. Players can also change the title of their player rating and the arrangement of their betting odds. They may also choose to kill themselves, establish their preferences for Quick Job content and player overhead displays, and choose how long One on One Deathmatches should last. Finally, this menu shows the GTA Online version number as of right now.
To Wrap it all Up
The GTA 5 Interaction Menu is a handy tool in both GTA Online and Story Mode. This gives gamers a lot of choices and features. Players can use it to make waypoints, get their stuff back, get healthier and more protected, add accessories, adjust vehicle settings, remember what they want to do each day, keep track of what they've collected, become passive, and do many other things. You can reach the menu on different types of systems. When you press the letter "M" on a computer, the touchpad on a PS4 or PS5, or the "View" button on an Xbox One or Xbox Series X|S, these are all examples of actions you can take.
In addition to the Interaction Menu, GTA Online has more choices in the Pause Menu under "Online > Options. " These include passive mode, Quickplay and Joint Celebration activities, spawn locations, and customizing player rank titles and betting odds forms. Moreover, gamers can modify the time limits for One on One Deathmatch and choose different content options for Quick Job. Usually, the Interaction Menu and other choices can make the game better and help players accomplish their goals.
Also Read: How to Sell Apartment in GTA 5