The most recent song included in the Fortnite Battle Pass has caused loopers to go into a frenzy. While it has some of the strangest lyrics ever written, internet users all around the globe are infatuated with it.
A TikTok open-verse challenge was what ultimately led to the creation of the Battle Pass song. A well-known YouTuber named Abdul Cisse surprised a lot of people by winning their affection by singing the most unrelated lyrics to any Fortnite songs that he could think of.
On social media websites such as YouTube, TikTok, and Twitter, the video has been seen a huge number of times.
The viral Fortnite song talks about the XP grind to complete Battle Pass
The lyrics to the Battle Pass song are:
Fortnite Battle Pass, I just s**t out my a**. Booted up my PC cause I need need, to get that Fortnite Battle Pass
I like Fortnite, Did I mention Fortnite? I like Fortnite, it's nighttime
I mean it's 5 o'clock that's basically nighttime, Y'all remember Cartoon Network: Adventure Time?
Either the artist had no idea what they were saying in the lyrics, or they are a genius who came up with allusions to Cartoon Network and the Battle Pass grind in a freestyle that lasted under 15 seconds.
Back in the day, there were no XP glitches, thus completing the Battle Pass was a challenge that required a lot of time and effort. In order for players to collect XP, they were required to remain up throughout the night and play the game. Even back then, unlocking skins such as the Black Knight and Omega was an extremely hard task.
As a result, it's possible that the singer is making a reference to the excruciatingly slow rate of XP progression that was required by the Fortnite Battle Pass songs. Players often remained awake till five in the morning.
In the TikTok video, the singer can also be seen demonstrating his personal computer, after which he discusses the amount of time he has spent playing video games. It is possible that this is a subtle allusion to PC gamers, who are often referred to be the sweatiest.
Fortnite Fans react to the Battle Pass song
Abdul Cisse is already a well-known TikTok and YouTube artist with thousands of fans. Some of his TikTok videos have recently gone famous, and fans have ironically requested that he upload them to music sites and create playlists.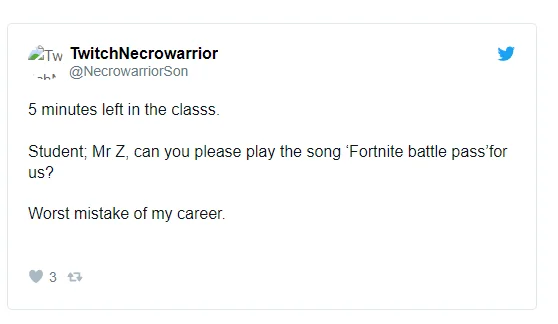 The Batte Pass song has received mostly good feedback. Players, though, have caught on to Cisse's humor and aren't criticizing him for the song's shoddy production values or lyrics.
Therefore, it's possible that the song that went viral can help Fortnite Chapter 3 Season 1 become more popular. The humorous method in which Abdul Cisse has explained the Battle Pass is entertaining enough to encourage anybody to give the game a go.
Conclusion
The latest viral hit, inspired by the Fortnite Battle Pass songs, was described in this post. The song has gained millions of views on YouTube, making it a popular favorite among gamers. The song's success has been shown by the proliferation of cover versions and new recordings. The song is a reflection of the game's widespread appeal and is likely to remain popular for some time. In conclusion, it's safe to say that the Fortnite Battle Pass song has gone viral and will continue to be a hit for years to come.
Suggested Read: Fortnite Chapter 3 Season 4 XP Glitch