Wade GTA 5 – Personality Analysis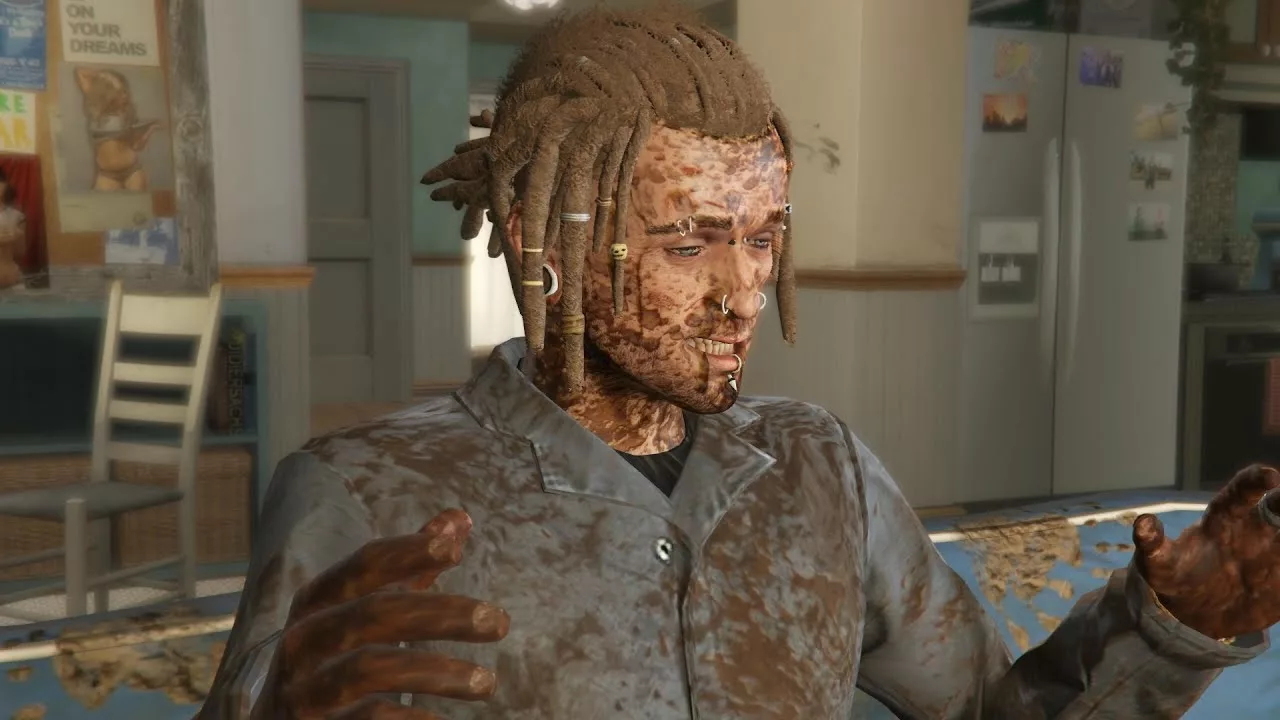 Wade Hebert is a character in the Grand Theft Auto V game. He plays an important role alongside Trevor Philips and is also mentioned in the Grand Theft Auto Online game. He is friends with Trevor and Ron Jakowski, and he is also related to Floyd and Dax.
Wade GTA 5 History
Wade paused at Sandy Shores to purchase drugs in 2012 while on his way to "the gathering" (a reference to the Gathering of the Juggalos) with Daisy Bell, Kush-Chronic, and others. He last saw his friends going to a quarry with a local dealer named Trevor Philips, who most likely murdered them, unknown to Wade, who assumed his friends had simply abandoned him. Trevor then took care of Wade, sodomising him with a hockey club at one stage.
Wade GTA 5 Background
In 2013, Wade initially appears alongside Ron Jakowski as they try to calm down Johnny Klebitz. This follows Trevor's sexual relationship with Johnny's girlfriend Ashley Butler. Which ends in Trevor killing Johnny and starting a feud with The Lost MC biker gang. Wade becomes a part of Trevor's team and joins him in attacking The Lost MC.
Trevor later assigns Wade the task of finding Michael Townley. Who has been hiding in Los Santos under the alias "Michael De Santa". After multiple failed attempts, Trevor threatens Wade to locate him, and finally, Wade is successful in tracking down Michael. They end up moving into Floyd's apartment, which causes Floyd some dismay. Wade also helps Trevor to scout the port for an upcoming heist.
Trevor subsequently asks Wade to look for Michael Townley. Whom Wade finds in Los Santos after multiple failed efforts and threats from Trevor, under the alias "Michael De Santa." They move into Wade's cousin Floyd's flat, much to Floyd's chagrin. Wade also helps Trevor scout the port for a theft.
Following an incident in Floyd's apartment that results in the deaths of both Floyd and his girlfriend, Debra. Trevor claims that Floyd and Debra have "disappeared," just like Wade's old friends, before taking over the Vanilla Unicorn strip club and ordering two strippers to attend to Wade. He stays with them long after the main plot is over. He even has communication with them, stating that every time he attempts to leave, the strippers give him another dance.
Wade GTA 5 Personality
Wade looks to be a caricature of the traditional Juggalo, a fan of the Insane Clown Posse, Tech N9ne, and other Midwest-based artists that compose music known as "horrorcore" or "the wicked shit." Herbert is classified as a "intellectual" by his artwork, and based on his voice and dialogue, he is thought to be mentally challenged. He is devoted to Trevor and will obey his every command, most likely out of fear, since Trevor frequently intimidates him. Part of this behaviour stems from the fact that he has an innately naive, almost childish worldview and regards Trevor as a wonderful guy, trusting whatever he says, even when he is clearly lying.
Despite his apparent innocence and childlike conduct, he doesn't appear to have moral concerns with murdering someone (as he recommended killing Ashley Butler immediately after Trevor murdered Johnny Klebitz), despite the fact that he never killed anybody during the game. It is likely that he suffers from a faulty moral compass and does not grasp what is right and wrong. In addition, in contrast to his silly exterior, Wade is a resourceful guy when it comes to discovering individuals, having tracked down Michael De Santa using only his previous identities as Michael Townley and family members.
Wade GTA 5 Appearance
Wade is a medium-sized Caucasian man. He has brown hair that is fashioned into dreadlocks and knotted back, as well as various facial piercings. He usually wears a black and red Fatal Incursion jersey over a white t-shirt, loose JNCO-style blue trousers, brown sandals, and white socks. On his right wrist is a brown Harsh Souls bracer, while on his left is a watch. A red bandanna is tied over his head, a sleeveless black-and-red Fatal Incursion sweatshirt over a black T-shirt, baggy black Tripp-style shorts and black trainers with red shoelaces make up his alternate costume.
Wade frequently paints his face white and black. He also wears eyelet earrings in his extended ears, which appear to be around an inch long, and has multiple tattoos on his body, most noticeably on his hands.
Wade GTA 5 Real Life Character
Wade is most likely inspired by Shaggy 2 Dope of the Insane Clown Posse.
Missions Appearance
Wade appeared in the missions "Mr. Philips," "Nervous Ron," "Friends Reunited," and "Scouting the Port." "Cargobob" (containing both the message and the post-mission phone call). "The Merryweather Heist." "Minor Turbulence" (including both the message and the post-mission phone call), "Predator" (including the post-mission phone call), and "Hang Ten"
To Wrap it all Up
Wade Hebert is an important character and a close partner to Trevor Philips in the game Grand Theft Auto V. He is friends with Trevor, Ron Jakowski, Floyd, and is also related to Dax. Wade's design is inspired by Shaggy 2 Dope, a member of the musical group Insane Clown Posse. He also seems to be pretending to be a Juggalo. People think Wade might have challenges with his thinking because of the way he talks and the things he talks about. They also call him an "intellectual" because of the art he creates.
Even though he acts innocent and childish, it seems like he doesn't know the difference between right and wrong and doesn't have good judgment. Wade has a lot of piercings and tattoos on his face. He is wearing a black and red jersey from Fatal Incursion, loose blue pants similar to JNCO style, brown sandals, and white socks. He often paints his face with white and black colors and wears earrings in his stretched earlobes. Wade can be seen in many missions, such as "Mr. Right" Philips, "Nervous Ron," and other people. Wade is committed to Trevor and will do whatever he asks because he is scared of him.
Despite his lack of knowledge or experience, he is very good at finding people by using his abilities and skills. He used his old names, like Michael Townley, and his family members to find Michael De Santa.
Suggested Reads: Vehicle Warehouse in GTA 5