Top Secretlab Gaming Chairs for 2023
What makes SecretLab's top gaming chairs stand out? These seats redefine the popular gamer chair design with a sophisticated touch. Known for ergonomic designs, premium materials, and slightly higher prices, SecretLab gaming chairs are favored by gamers and creative professionals seeking quality office seating. The SecretLab Titan Evo and similar top-tier options offer excellent choices. If you're serious about PC gaming or need enhanced mental performance, investing in these premium chairs is wise. They also suit professionals setting up home offices, providing quality comparable to Herman Miller chairs at a more reasonable cost. Discover SecretLab's leading gaming chairs for your perfect fit.
Secretlab Gaming Chairs
Secretlab Titan 2020 Classic Gaming Chair
The Secretlab Prime 2.0 gaming chair has an upholstery made of PU leather, which provides a soft feel while still being long-lasting and durable. It is constructed using high-quality materials that can withstand frequent use. This chair's lumbar support can be adjusted, so it can accommodate users of varying heights and provide assistance in achieving and maintaining a healthy posture. Users of this gaming chair have the ability to recline the backrest all the way, allowing them to take naps or watch movies in an ergonomically sound position. However, this particular model does not have ventilation.
The five-star metal base offers excellent structural support and is large enough to accommodate most adults in comfort. This chair can be moved around the room with ease thanks to its wheels, and it also features a seat height adjustment lever that is equipped with Class 4 hydraulic pistons, which ensures smooth operation and long-lasting durability. The chair, which features a timeless color scheme of black and white, injects a touch of understated color into the gaming area. The armrests of this gaming chair may be adjusted in height so that they provide support for the upper body in the desired position. It is also considered to be one of the best Secretlab Gaming Chairs.
Secretlab Omega Prime 2.0 Team Liquid Gaming Chair
A one-of-a-kind gaming design gives this Secretlab Omega 2.0 Team Liquid gaming chair the ability to make a bold statement. The upholstery is made of high-quality PU leather, which not only provides durability but also facilitates easy cleaning. This chair, which features a thick back and seat made of memory foam, offers additional cushioning and is an excellent choice for individuals who work or play games for lengthy periods of time. However, because the chair was intended for shorter people, those who are taller than 5 feet and 1 inch or who weigh more than 240 pounds may find it to be an uncomfortable fit.
The back of this model is adjustable, allowing for a full-length backrest recline, and the base of this model is made of robust metal, which offers structural stability. The wheels that come included in this model make it easy to maneuver within a game area or an office. This model features a Class 4 hydraulic system, which allows for quick and dependable adjustments to the seat height. Adjustable armrests in all four dimensions let you change not just the height but also the orientation of your arms. The ergonomic design of this gaming chair cradles the user's body to provide comfort as they play.
Secretlab Titan Prime 2.0 Akali Gaming Chair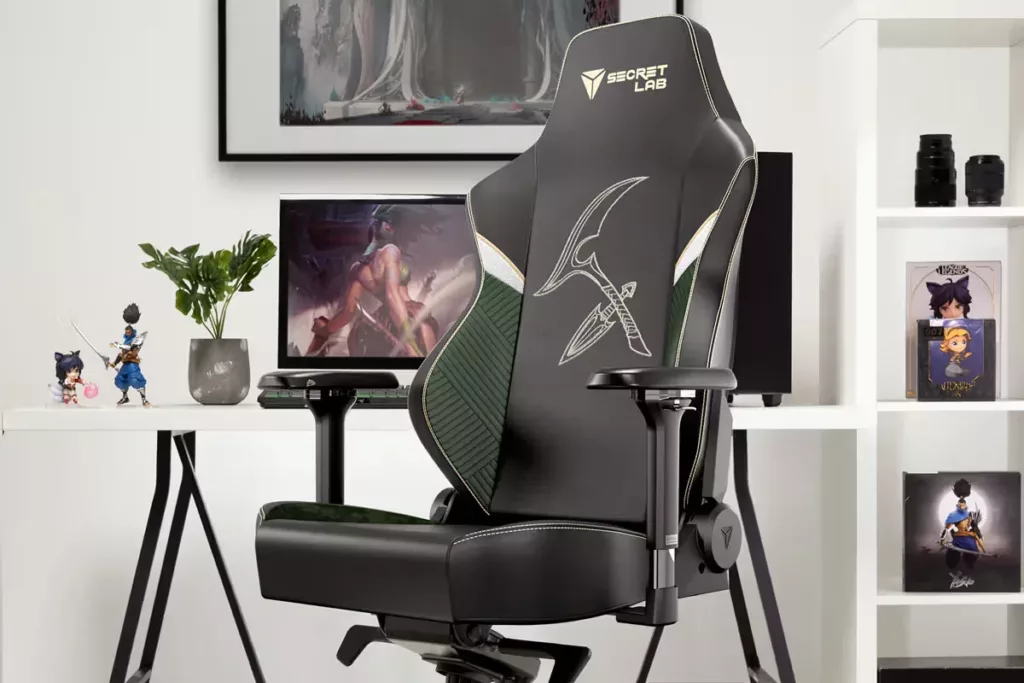 This Secretlab Titan Prime 2.0 Akali gaming chair, which features a one-of-a-kind Akali design and the Secretlab emblem on the back, is sure to become the new focus of attention in whatever office or game room it is placed in. This chair is very ergonomic and features a back that can be reclined all the way, as well as armrests that can be adjusted to any position and have a smooth surface that supports the elbows. It offers a generous amount of room that can accommodate persons with heights up to 6 feet 7 inches and weights of up to 290 pounds. On the other hand, those who have a physically slight build should probably avoid it.
The PU leather upholstery of this gaming chair is of the highest possible quality, which lends an air of refined elegance to the gaming rooms. The chair can be cleaned quickly and easily with a damp cloth, and it is constructed of high-quality materials that remain in good condition even after being used frequently. This chair features a lever that allows the user to regulate the amount of resistance that is applied when the chair is reclined. This chair allows the user to take naps in the workplace or game room. This chair's height may be easily adjusted thanks to a hydraulic lift mechanism that's built into it.
Secretlab Titan Prime 2.0 Yasuo Gaming Chair
The Secretlab Titan Prime 2.0 Yasuo gaming chair features upholstery made of high-quality imitation leather that is designed to be easy to clean. It contains a knob that allows the lumbar support to be adjusted to the user's preferred position, which helps to reduce pain in the lower back, and it comes with integrated lumbar support. Users are able to lay back and relax thanks to the fact that this device enables a full-length back recline. On the other hand, the manufacturer suggests that this chair not be used by anyone who is taller than 5 feet 11 inches or who weighs more than 240 pounds, so it might not be the best choice for really large people.
The base of this gaming chair is made of high-quality metal and features a mechanism with five stars that is resistant to corrosion and cracking. The height of the seat may be adjusted easily thanks to the Class 4 hydraulics and a lever that is positioned in a handy spot. Those who are passionate about video games will like the one-of-a-kind design of the Yasuo, which features a blue and white color pattern. The armrests of the chair may be adjusted in all four directions, providing dependable support for the upper body as well as the elbows. A head cushion made of memory foam is included with the purchase of this gaming chair.
Secretlab Omega Game of Thrones House Stark Gaming Chair
The Secretlab Omega Game of Thrones House Stark gaming chair is a limited edition model made in association with the iconic television drama series. It features a prominent Stark insignia that will appeal to fans of the series. The fabric of the gaming chair is made of high-quality PU leather that has been expertly stitched to ensure its longevity. This provides comfort thanks to the substantial cold-cure foam cushioning that is present on both the back and the seat. The back of this gaming chair can be fully reclined, making it possible for players to take naps as they play. Sadly, this particular model does not come with a lumbar support option.
Both mobility and durability are provided by a five-pointed star frame and casters that are attached to an aluminum base. This gaming chair features a hydraulic lift mechanism that makes seat adjustment simple and straightforward. It boasts 4D armrests with internal metal components that enable tilting, angling, and movement of the arms up and down to give comfort, and it is compatible with a head cushion to provide additional support for your head. This chair includes a multi-tilt mechanism that adjusts to the posture of the user, and it also has a lever that can be used to lock the seat in place.
Why Should You Buy a New SecretLab Gaming Chair?
There is little doubt that the ergonomic performance, comfort, and longevity of SecretLab chairs are unparalleled. For these reasons, the SecretLab Omega has become the go-to seat of choice for many competitive and recreational gamers alike. If you're wanting to upgrade your gaming setup or home office with a more ergonomic and comfy chair and desk, you may want to give one serious consideration.
Because all-day comfort is crucial to effective streaming and performance during rigorous PC gaming sessions, players who wish to gain momentum on streaming platforms may want to research the best ergonomically sound seats. The correct ergonomic chair can alleviate some of the negative effects of sitting for long periods of time, such as fatigue and poor circulation.
One possible solution to the problems of exhaustion and repeated strain experienced by computer workers is the adoption of new, more comfortable chairs like the SecretLab Titan, which boasts ergonomic characteristics. Upgrade to a SecretLab chair with more adjustable features if your existing office chair doesn't provide adequate support or comfort.
Conclusion
To summarize, Secretlab gaming chairs have brought about a change in the gaming business in the year 2023. These chairs give gamers the ideal experience by providing improved ergonomics, a comfy seat, and a design that can be adjusted to their own needs. Anyone interested in taking their gaming experience to the next level should look into purchasing Secretlab gaming chairs as they are the best option.
Suggested Read: Best Gaming Chairs 2023